Summer 2012
Great Yarmouth Town Hall
Everyone has special memories that they hold dear - memories to tell the grandchildren again and again. Being asked to make the curtains for Great Yarmouth's town hall is, for me, one of those memories. I am so proud and honoured to be a part of the restoration of such an important building in my home county.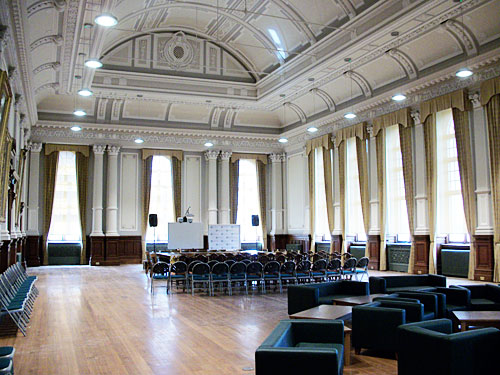 Great Yarmouth Town Hall was designed by J B Pearce and opened by the Prince of Wales in 1882. The grand red sandstone building sits on the south quay on the River Yare in what would have been a bustling trade area.
Working with Jeremy Stacey Architects and Quinn Construction, the town hall is being sympathetically restored to its former beauty and magnificence.
The Assembly Room is truly stunning! My handmade curtains for the six-metre tall windows are on three sides of the building - allowing natural light to stream in throughout the day, and lighting up the beautiful ceiling above, as impressive now as it would have been originally.
It has been a real joy to be involved in the restoration of such an historical building, and I'd like to give a huge thank you to everyone on our team who helped to make it happen on time!
Iconic French Design
This summer my head was turned by a Frenchman! Pierre Frey is one of France's most iconic fabric designers, with values that have been passed down from father to son by three generations of the Frey family.
The French designs are instantly recognisable by the confident large bold print and strong colours. Making more than just drapes and blinds the fabric becomes a piece of art by the attention to detail.
The designs are really inspiring: Gaya and Venus are miles apart in subject but still crisp and fresh. They stopped me in my tracks and made me take a second look.
Pierre Frey, founded in 1935, have three other design houses from which to choose. Predictably, I have re-designed our bedroom from floor to ceiling around one fabric from Boussac. I love it so much I keep the samples in my bag!
(Just don't tell my husband, Stewart, it will be a nice surprise when it's finished!)
Good Luck to Jamie Oliver!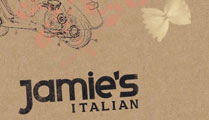 We wish Jamie's Italian the very best of success this summer, and send a huge thank you for supporting a local business in Norwich.
We have had the pleasure to supply the wallpaper to the new restaurant in The Royal Arcade, (formerly Waterstone's bookshop). The wallpaper is simply perfect for the arcade I can't believe how much it's changed inside. It's such a nice place to be. This is so exciting for Norwich!
Spring 2012
Spring is here!
This is my favourite time of the year, it's when the sun starts to shine again! A time when natural light reaches the darker rooms in the house making everything feel warmer and brighter.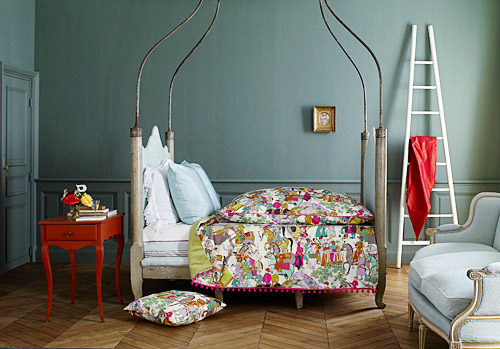 It's also the time when new fabric collections are launched. Manuel Canovas and Clarke & Clarke have excelled all expectations for great design.
Clarke & Clarke have launched a new collection called Clarisse - great co-ordinating fabrics and wallpapers. They really have come up trumps with such elegance and beauty - these timeless designs would be great in any room opening out to the garden, or perhaps in a bedroom for a daughter to grow up in. Ticking Stripe would be great for any boy's bedroom, and the colours co-ordinate with Clarisse, creating a harmonious flow throughout the house.
On the other end of design, the artisans from Manuel Canovas have created one of the most interesting fabrics I have seen in a long time. This isn't fabric, it's art: Dara is so elegant and has such majesty. It really needs to been seen to enjoy every single inch, this is stunning!
We have the entire new collections this spring from Sanderson, Clarke & Clarke and Manuel Canovas, we have also added Porter Valmic's with their great upholstery fabric photo here too.
2012 looks to be the year for long curtains. Watch out for some amazing photos coming up this summer - we are making curtains for one of Norfolk's most impressive buildings.